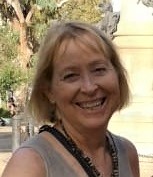 Susan McMurry
Analyst and Teacher
Type: Generator                         
Profile: 2 / 5
Contact:
Susan McMurry
Ridgway, Colorado, USA
Tel: +1 970 778 2190
www.humandesigninsight.com

HD analyst:
Personality Analysis
Life Phase Analysis
Partnership Analysis
Overviews

HD teacher:
Living Your Design
HD Basics
HD Analyst Training
In 1998, at a time when life was not making much sense to me, I was introduced to the Human Design System, had a reading with Ra Uru Hu (the system's founder), and soon began studying the knowledge. The profound impact of learning my strategy and authority for making reliable decisions for myself was transformative. For many years, I attended Ra's courses almost everywhere he taught. I was fortunate to receive numerous personal, partnership and life cycle readings by him.
What a difference those readings have made for me!
In the years prior to meeting Human Design, my career focus was varied and diverse as I searched for a path with meaning and purpose. I earned several advanced university degrees and worked as a high school French teacher, a Paralegal, a Computer Software developer and then a Psychotherapist.
In 2000, I devoted myself to learning Human Design and integrating that knowledge into my Psychotherapy work. My passion lies in sharing the Human Design System with others, working with people individually and in relationship over time to help them integrate into their daily lives a deep understanding of its wisdom and a deeper understanding of who they truly are.
I hope you will join me in exploring what Human Design can do for you.